As the next installment of my productivity tools blog series, I'll outline the capabilities and how I use
Remember the Milk
to remember everything from the groceries, work tasks, paying the bills and the things my wife and kids mention for birthday gifts.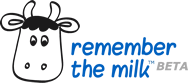 Remember the Milk (RTM) at its core, is a web based to do list tool. However, recognizing that you aren't always at a computer with web access, the RTM team has done an excellent job of integrating with off-line and mobile tools, from the iPhone to text messaging.
A great thing (and there are lots of them) is that RTM is free. A few of the mobile platform integration tools are only available to premium members. The RTM team is quick to respond to problems, even though there are only 3 of them and they have a great user driven forum.
Features
RTM is a feature rich application with multiple lists, tagging, robust searching and a smart list feature based upon saved searches. I have work and personal lists and a general shopping list, which acts as the foundation for a grocery smart list based upon the 'groceries' tag. My most important list is my Today smart list, which combines all the tasks from all the lists which I should be working on today. I've found that this type of focus dramatically increases my productivity – I spend more time working on things, rather than figuring out what to work on.
You can receive reminders on a daily basis (the list of things for today) and specific to do's at a specific time. Reminders can be sent via email to multiple email accounts, SMS, all kinds of instant message protocols. My daily reminder goes to both my personal and work accounts, so that no matter where I'm checking my mail, I get that reminder of what to do today. I also get a text message at 6:45 am everyday, so I always have a portable list right there in my cell phone.
Though many productivity systems frown upon the use of prioritization, RTM also provides a numbered, 1 – 3, prioritization schema (the colored boxes). I still struggle with this, as there are some days when I only get to the tasks I've prioritized as number 1, bu there are still tasks which need to be completed that day. Individual tasks can have multiple notes (notepad icon next to tasks) to record the finer details of the particular task, which I use for phone numbers or the detailed SQL for the query that I need to run that day.
I don't make much use of the collaborative portion of RTM, but you can send tasks to or share lists with other RTM users. One of the drawbacks I find to this is that contact management inside RTM is lacking a bit, but it is a task management tool, not a contact manager.
Finally, RTM will generate a fairly nice printout. I use it more as a checklist (a trip packing list) than a printable daily to do list, partially because my work is done at a computer and I find that the mobile versions of RTM meet my needs. One of the continually requested improvements to the printable lists is the specifics of the notes, which I can understand why people would want that.
Cross Platform Integration
Another great thing about RTM is that it can be integrated with so many different tools. You can display your tasks on your Google Calendar, as an iGoogle gadget or desktop widget. There are plugins for Gmail to manage, display and create tasks right in your email client.

RTM supports integration with several third party applications, most importantly, Jott and Twitter. I'm not a Twitter user, but it provides an easy way to add, list and complete to dos by SMS. I'm a heavy Jott user and I can add to dos with my voice!
For those users with a handheld device, there is a mobile optimized website, a Blackberry version, an iPhone version and a synchronization tool for Windows mobile devices (these last three are all paid functions). You don't even need to have an expensive, high-tech device with wireless internet access – even a simple cell phone with the ability to text message will give you the full functionality of RTM (Jott or Twitter and RTM together).
RTM was one of the first applications to make use of Google Gears for offline web support. I can still have RTM when I'm on a plane or someplace with no web access and when I get back online, all my tasks re-synchronize. Its almost like there is no excuse to forget if you use a tool like RTM.
Using Remember the Milk
RTM is the most important productivity tool for me. With all of the things that my family and I are doing it gives me a great, one stop spot for my to dos. With the integration with Jott and tasks by email, whenever I think of something that I need to do, I can quickly and easily make a note of it. For these reasons, RTM is one of my most trusted capture devices for GTD.
It's great as I use the last chipotle pepper that I can take my cell phone and email it to my shopping list that I need to buy more. I can keep track of my work deadlines, personal to dos and my homework due dates all in one place make sure that I am able to divvy my time up between the different activities. Remember the Milk has become so inter-twined with my everyday life that its almost gotten to the level of "if I don't write it down, I won't do it."
You can sign up here or take a tour!